Female Pattern Hair Loss also called Female Pattern Baldness is a genetic condition that has a different clinical presentation compared to Male Pattern Alopecia. To compare with affected male, the affected female has a diffuse hair loss pattern.
For female patient's experiencing hair loss, a careful assessment of scalp conditions , pattern of thinning hair evaluation and complete clinical history by a board certified dermatologist become very important.
Surgical treatment for female hair loss in the experience of Dr. Arambulo is successful. Below are our hair transplant before and after photos in our patients with Female Pattern Hair Loss :
1.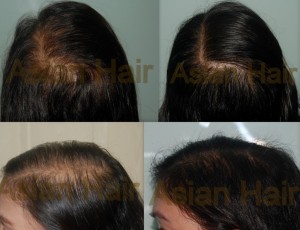 This  patient  with female pattern baldness had 1 session of hair transplant procedure by STRIP technique
2.
This patient had hair transplant lowering of hairline . She had 1 session by STRIP procedure. The hair transplant results shown here was 4 months after her procedure.