In the Philippines, Dr. Arambulo is the pioneer in the most advanced hair restoration technique which is FUE or Follicular Unit Extraction now called Follicular Unit Excision. Our gallery of photos and videos showcase her well performed FUE procedures and the good authentic clinical results from FUE which is equal to traditional strip surgeries and microscopic dissection.
Dr. Arambulo acquired the knowledge in Follicular Unit Extraction (FUE), the State of the Art Methodology and Instrumentation under Dr. James Harris, from Denver, Colorado. Dr. Harris is the innovator and patented the Powered SAFE Scribe and is also one of the collaborators in ARTAS (ROBOTIC) technology. To be able to perform FUE procedure, the physician needs training, higher skills and continuous knowledge, and understanding of the choice of FUE  device technology.
Dr. Arambulo performs FUE with speed and efficiency.
What is Follicular Unit Extraction or Follicular Unit Excision (FUE)?
Follicular Unit Extraction, the latest technique and major advancement in hair transplant surgery , has evolved and improved substantially during this time and is believed to becoming even better because of recent innovations that in order not to be associated with more harm than good must be applied thoughtfully and conservatively and honestly while avoiding overly aggressive use. ( Walter Unger Forum Nov- Dec. p245)  FUE is performed using small dull or sharp punch to harvest the individual follicular units from the scalp back donor region.
The International Society of Hair Restoration Surgery (ISHRS) announced today that it is updating the terminology of the hair transplantation method known as FUE from Follicular Unit Extraction to Follicular Unit Excision. This change is driven by the need to emphasize the actual surgical aspect of the procedure, especially among patients in countries where the term "extraction" has non-surgical implications and has already received worldwide support and acceptance from hair restoration surgeons.
Among the FUE Devices available, what is Dr. Arambulo's choice?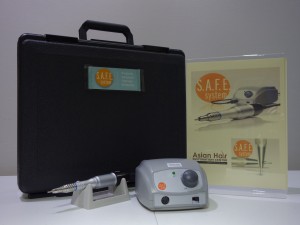 There are many FUE devices available, including the most expensive sophisticated Robotics (ARTAS). Dr. Arambulo performs FUE with the use of simple 1mm disposable punch but her choice of motorized FUE device is the POWERED SAFE SCRIBE, using the 0.8 and 0.9mm blunt punches to extract the individual's follicular units. The most advanced FUE techniques such as body hair transplant and non-shaven FUE, made possible only by motorized device and by manual FUE.
This FUE procedure by Dr. Arambulo proves her talent and skills with the use of SAFE SCRIBE motorized device. Production of intact healthy individual follicular grafts shown on our video is necessary for the hair to grow. Follicular hair grafts once damaged cannot grow anymore. Understanding how important every single hair is to balding patients, Dr.Arambulo makes sure every single graft is safe with her.
In addition, every FUE physician hair restoration specialist must have BACKUP FUE DEVICES. Dr.Arambulo keeps four other motorized devices as backups and a simple disposable 1mm punch to perform MANUAL FUE. From the experience of  Dr. Arambulo FUE device may just stop to operate for an unexpected reason. These back up devices are important to proceed with FUE procedure without disruption.
Are there other punches use in FUE procedure?
Though Dr. Arambulo uses the dull punch in the majority of FUE procedures, she also understands and is proficient in the use of sharp, trumpet, serrated punches. Use of different punches is important to know because from Dr. Arambulo's experience different punches may work differently on different scalp characteristics.
What is scalp preparation in FUE?
To have a smooth and fast harvest of individual follicular units by FUE technique, below are the different scalp preparations which will depend on the number of grafts plan per session. These different scalp preparations must be clear and agreeable to all patients who prefer FUE technique. However, a NON - SHAVEN FUE, the most advanced and latest update in FUE technique is available for patients who do not like shaving.
What is Non - Shaven procedure?
Many patients with hair loss, who were reluctant to do FUT hair transplant surgery because of fear for donor wound scar and post-operative pain, welcomed this less invasive procedure. But they also do not like the need to shave their heads for FUE surgery. Non-shaven FUE (NSFUE) is an innovative technique to overcome this demerit of FUE procedure. NSFUE helps more patients to choose the FUE by reducing concern about their appearance after surgery. (Michael Kyu-ho Lee, MD )
How do I know I really received the grafts I paid for?
At Asian Hair Restoration Center emphasizes honest work among our staff. We show to patients the FUE grafts harvested before placing and keep the photo and written documentation of all FUE grafts count harvested in every procedure. Patients will become aware of our method of counting of grafts production during the procedure.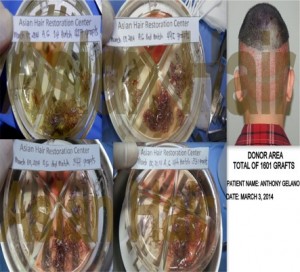 What is the truth about donor area scarring from FUE procedure?
FUE technique offers patients the option of no stitches, less downtime, more tolerable post-operative pain, and less visible scarring. Scarring due to FUE as compared to a standard strip excision for the same number of grafts is certainly not less. However, the diffuse nature of the punctate scars from FUE may confer a decrease in detectability especially in patients who either shave their head or wear their hair short.
Is FUE successful?
Watch above patients' testimonial, 4.5 months after the first session of FUE procedure.
What makes FUE successful?
Dr. Arambulo has a higher FUE skill, updates her knowledge on hair transplant procedure techniques and innovations and because of this she further improves the training system of her surgical staff. Sharing the finest details about the latest innovations enhance their knowledge and skills and therefore optimize the hair transplant procedure results; the latest method adapted is in placing the fragile FUE grafts devoid of connective tissue, a traumatically by the use of implanter into the recipient area with or without pre-made slits.
We begin the FUE procedure by few harvest of grafts to show to patient the intact follicular grafts anatomy structure as proof of proper FUE technique procedure and, therefore making patients be aware of its importance necessary for the hair to grow successfully.
What is body hair transplant (BHT)?
BHT gives new hope to patients who are not or no longer candidates for traditional hair transplant. It is an option especially for patients who want additional volume or density after scalp hair transplantation but have limited or exhausted scalp donor areas. BHT is performed by FUE technique only, either by manual or use of motorized device demands a higher degree of physician's skill and physician - staff hands and eyes coordination. It offers the removal of unwanted hairs from the abdomen, armpits /axillary area, chest, back, beard, forearms, legs, thighs, and pubis, placing them into an area where they are most needed, mainly the scalp in the majority of patients. BHT also allows, harvest of finer hairs for use in the hairline or eyebrows
The patient is requested to shave the body hair 3-4 days before the procedure.
Body hair transplantation physician follows the refinement in this technique with two important factors involved.

1. The integrity of grafts extracted
2. Smallest donor extraction site wounds with the use of 0.8 mm punch, that leaves undetectable scarring.

Physicians performing BHT has advanced experience in FUE procedure. Watch how Dr. Arambulo performs BHT
The photo and written documentation of the quality and quantity of FUE body grafts production is important for you to know. To know if BHT is for you, call for a consultation appointment.
What are the indications of  FUE procedure?
Patients who want to wear their hair very short.
Patients who do not want a linear scar on the back.
Combines with strip procedure to harvest more grafts.
Patients who tend to heal with thickened and wide linear scars despite good surgery.
Patients discouraged to undergo another strip because of unacceptable ugly scarring from previous strip poor surgery.
Patients with old scars from scalp infection, accident or surgery trauma and do not want further scar formation.
Patients who require small session i.e eyebrow retouch, small scars.
Patients with tight scalp.
Patients who need to resume high level of activity soon after the procedure.
Patients who have significant dislike to after surgery pain.
Patients with extremely thick hair shafts and who require finer hairs from the supra-auricular or low neck regions to place on frontal hairline or eyebrows for more aesthetic result.
Body hair transplant
Patients with limited or depleted donor supply for additional grafts harvest.
Correction of unnatural results.
Permanent hair removal of blond excessive hair unresponsive to laser surgery.