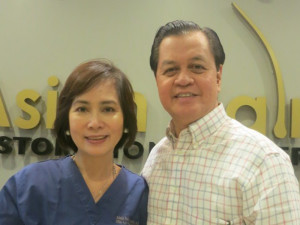 Providing good service and satisfaction is what we aim for our patients ,thus, appointment is very important to us. We schedule the appropriate amount of time to explain to patients the details involve in the hair transplant procedure. Please arrive on time for our hair transplant surgeon and surgical team would want to spend time with you as much as possible to address all your concerns. Your initial visit to physician's centre is important, you need to meet the hair transplant surgeon and the surgical team to understand the details involve in the procedure and how the team works.
Before you choose a hair restoration surgeon, make sure a licensed experienced and properly trained physician will be responsible for your treatment. It's a good idea to ask your hair restoration surgeon a lot of questions so you can have confidence in your decision.
What is involved in a hair transplant?
Hair transplantation involves transfer of patient's existing hair from the back thick areas to the thinning or balding  areas of the front scalp.When these grafts are transferred to thinning areas of the scalp, they stay  and last a lifetime.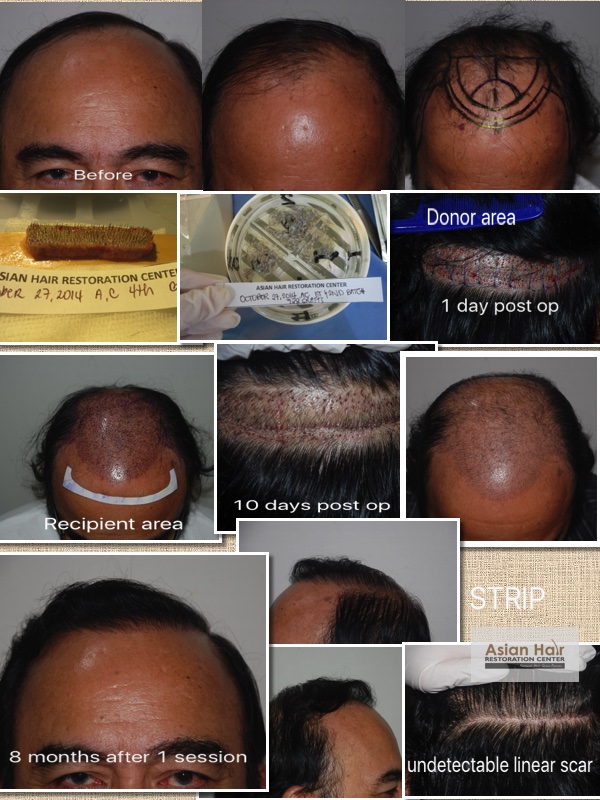 There are 2 techniques in hair transplant:  Strip FUT and FUE procedure. Please go to Hair Transplant page to understand more the two technologies in hair transplant procedure.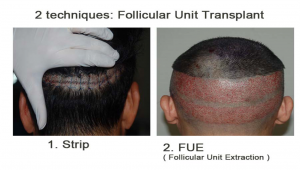 What is FUE technique?
FUE is the major advancement in hair transplant surgery,is a difficult procedure done only by updated talented physician . Watch the video to show how our hair transplant surgeon, Dr. Arambulo performs the critical parts in this procedure.
The following are questions to ask any FUE provider:
What is you choice of machine and why do you choose it?
Who is your mentor in FUE?
What is the maximum number of FUE grafts you harvest in one
session?
How do you document the number FUE grafts harvest?
Do do you have video that shows the actual FUE procedure by
Dr. Arambulo doing FUE, show the intact production of
FUE grafts?
Do I shave my hair?
In strip procedure , the donor back hair is kept long to cover the linear incision, however , in FUE procedure type of hair shaving of the scalp as in above will depend will depend on the size of procedure and is required to facilitate harvest . This full scalp shaving is for more than 1000 grafts plan and should be acceptable to patients who prefer FUE technique: However in patients who do not like to shave a
Non Shaven FUE procedure is also available.Please go to FUE page to know FUE donor scalp preparation further.

How long does a hair transplant procedure take?
AHRC performs maximum of 3500 grafts /session by strip and 2000 grafts by FUE on an out patient basis. The length of the procedure depends on patients scalp characteristics and number of grafts to place . The procedure usually lasts from 5-12 hours in strip or FUE procedure. Most patients will arrive in the morning and will have their procedure completed by late afternoon. This will be explained further on your first visit.
Does the hair transplant procedure hurt?
Patients are given local anesthesia in the donor and recipient areas. Most patients find that once the anesthesia is given , they feel no pain or discomfort during the procedure. Most patients are pleasantly surprised by how minimal the discomfort from the surgical procedure is. Patients' pain from anaesthesia infiltration assessment is minimal: rate of 1-3 from the score of 1-10. A "Gate Theory" during anaesthesia infiltration is applied to further decrease the mild discomfort associated with it. Most patients watch movies,listen to music or nap during the procedure.After surgery patients will typically feel mild discomfort and numbness or no discomfort at all .
How many grafts will I need?
The amount of grafts you will need ultimately depends on your degree of hair loss present , projected future hair loss pattern, and how full you desire your hair to be..On line consultation will help us provide you ,the initial estimate of number of grafts but personal consultation with Dr. Arambulo is important for proper assessment and evaluation of your donor reserve to provide the more accurate estimate number of grafts plan.
What do I expect from the procedure?

During the procedure:
Hair transplant is considered a minor surgical procedure..Patients will be awake and place under local anesthesia only, sometimes accompanied with premedication for mild sedation and relaxation.You may wish to bring movie videos or we have a selection of DVDs to watch during placement of grafts part of the procedure.
Patients can expect to go home the same day after the procedure.Procedure may take 5-12 hours depending on the patients number of grafts plan and scalp characterisitics.
Will people know I had a hair transplant?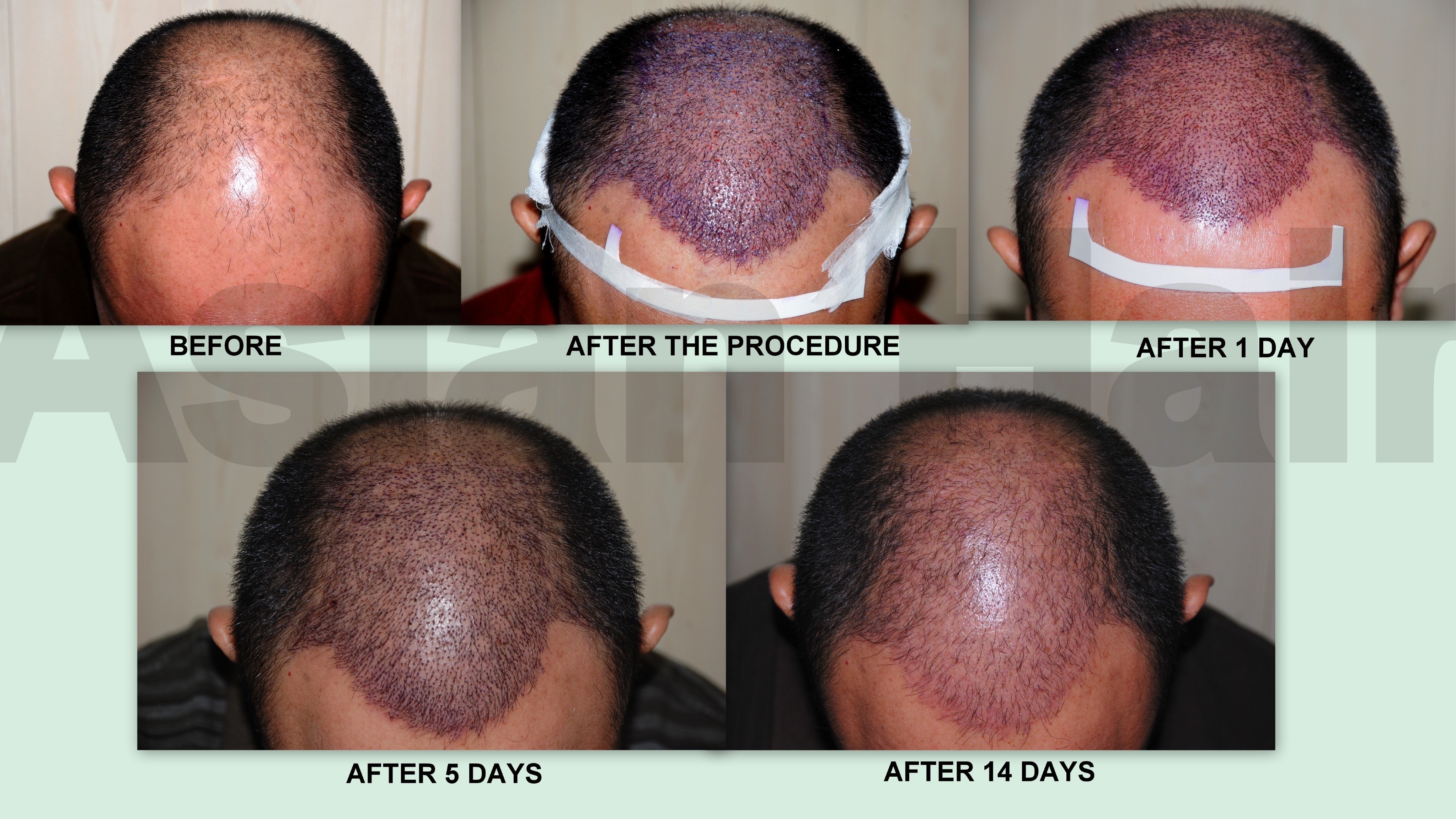 The photo shows the stages of healing in the recipient areas: Immediately following surgery. The recipient area is typically pink with scabs forming around the micro or tiny incisions. These thousands of tiny incisions will heal rapidly within 24 hours specially if PRP is used ,with scabs falling off after ten to fourteen days.Few days after the surgery a persons hair transplants will be noticeable, if there is no previous hair to mask these temporary scabs. However, most patients feel comfortable being in public without wearing a hat within 5 to 7 days following surgery. Once the transplanted hair grows out the results should look entirely natural, even under close examination.
How will I look like after surgery?
In most cases, patients will leave the office with surgical cap provided or patients own baseball cap or bandana (scarf) to hide the graft implanted area for the first few days.
What does the healing process involve?
Although in some patients temporary occasional minimal swelling , numbness, and discomfort can be expected for several days following surgery. In our experience  because of improved anesthesia and post operative care, it is usually not very noticeable. With todays very refined micro hair transplantation procedure ,the incisions are very small .These wound will heal fast especially if Platelet Rich Plasma ( PRP) is used.
Existing hair, if possible, may be combed over the grafted area to hide them while they are healing.
We usually do the first shampoo after 24 hours at Asian Hair Restoration Center or at Arambulo Dermatology Center Rm 1112 MATI at The Medical City, but,for busy patient, he may do the shampoo himself gently and carefully. Take home medications ,written and video post operative instructions will be provided for the utmost care of transplanted hair.
Patient will come back 7 and 14 days after procedure for removal of sutures.For patient who has limited time , he can ask the local doctor to remove the sutures.
Why does the transplanted hair have to fall out?
It is perfectly normal for the newly implanted hairs to fall out during the healing process. Understand that by being transplanted, they have gone into a sort of shock or trauma which moves them (ahead of schedule) into the resting phase of the 3 stage hair growth cycle. All of this is completely normal and you should not worry as the dermal papilla of the hair root is firmly implanted in your scalp and will regrow again. In some rare cases, the newly implanted hairs will scab as they heal – but not fall out within the next few weeks following your surgery. Sometimes, the hair stays in place, but this happens only rarely.
When will my newly transplanted hair start to grow?
Normally it takes between four to six months following surgery before the transplanted hair follicles begin to grow new hair. However ,we noted  early growth as early as  two months after surgery with Platelet Rich Plasma use.The transplanted hair grows in very thin initially and gradually grows thicker and fuller over time. After one year ,patient's transplanted hair will be fully mature and will continue to grow for a life time
What is the largest number of hair grafts I can have transplanted at one time?
To ensure the best possible results from the procedure ,Dr. Arambulo has developed a training system to produce a team of competent surgical assistants and medical technicians , and combined with the atmosphere of team spirit comprise the core ingredients to a successful procedure. The AHRC training system has increased the teams surgical quality and efficiency. Currently AHRC well trained  surgical team  made it possible for thousands of grafts to be implanted in a single big session: 2,500 and 3500 by Strip FUT method and 1500-2500 by FUE technique. With difficult scalp characteristics, though rare, two consecutive days divided FUE procedure might be possible.
Will I need more than one procedure?
The number of the sessions will depend on patient's extent of hair loss, donor supply, the desired density and scalp characteristics.Dr.Arambulo will discuss with you the different design plan according to your goal during consultation .
When can I go back to work?
Depending on the choice of technique and the nature of your work ,it is often possible to go back to work the next day, but, it is best to take a leave for 3 days. If you have time we prefer that initial shampoo ,24 hours after procedure is at Asian Hair Restoration Center or at the Medical City . Dr. Arambulo will discuss the details of preparation during consultation so that the procedure will not interfere with your work.
Are the results permanent?
Since the hair follicles that are transplanted to the balding areas are genetically resistant to going bald, they will continue to grow for a life time – just as if they had been left in the bald resistant donor area.
Will my hair transplant results look completely natural?
Hair transplantation is an art and when done correctly, can be so natural that even your hair stylist will not know that you have had it done. Dr. Arambulo is updated ,performs the hair transplant surgery with skills and efficiency so that your new hair will look and feel natural and no one will know the difference unless you tell them. Our results will tell all.Please click to go to Patients' Hair Transplant Journey
Will I have a scar and what will it look like?
In Strip technique , donor area is sutured back together employing the trichophytic closure technique to reduce the detectability of linear scar that will remain. We have observed unnoticeable linear scars from our patients with the current trichophytic technique but still even in the hands of the best surgeon, scar my be detectable due to tightness and variability of scalp characteristics.
For patients who do not like linear scarring on the back ,FUE procedure is the choice of technique. FUE technique offers patients the option of no stitches, and less visible scarring. Scarring due to FUE as compared to a standard strip excision for the same number of grafts is certainly not less. However, the diffuse nature of the punctate scars from FUE may confer a decrease in detectability especially in patients who either shave their head or wear their hair short.
Please read the hair transplant page.
Will I be able to drive home after the surgery?
Like most types of minor out-patient surgery, you are not allowed to drive home immediately after your surgery. In addition to the local anesthesia, patients are given a mild oral sedative to help them relax, prior to their procedure. Patients who want to leave immediately after the surgery should bring someone with him to drive him home.
If you don't have a driver AHRC staff will assist you to arrange the transportation .You have a choice of our private driver or UBER  to bring you to our centre and back to the house or hotel.
What do I expect after surgery?
Day 1 post op:
Patients may have some oozing and discomfort but it is tolerable.Take home oral pain relievers and antibiotics will be provided .
Day 3 post op:
Patients may have some swelling in the forehead  but with our patients the experience is so minimal to none.. In addition the  tumescent solution used has an anti-inflammatory medicines to avoid this problem. It is normal to find scabs on the recipient areas .A written and video post procedure instructions will be provided for your guidance
Day 4-7 post op:
Scabs will start to fall off within two weeks and is considered normal.
When is the follow up schedule?
24 hours after : 1st shampoo at the center, as much as possible
5 -7 days after : removal of  sutures at the center or by your local doctor
14 days after , optional for patients who want removal of remaining absorbable sutures
However, if patient cannot come for follow up, an absorbable sutures are used . We provide out patients , written and video post operative instructions   to guide  them on how to take care of the transplanted  hair grafts. It is important that you watch this post operative video instructions with somebody to help you take care of your scalp after surgery.
To assess the hair growth after procedure, please visit us 4 -6-8-12 months after surgery. Our staff will remind you of your subsequent follow ups.
How long do I have to wait until I have another procedure?
It is also important that you come for follow up so we can asses the growth yield from every procedure. Because it can take 6 to 12 months for your new hair grafts to grow , you need to wait that long before you can have another procedure.
Are hair transplants expensive?
Considering the quality of our work and that the results are permanent, most people consider hair transplant , a good investment in their future happiness.Hair transplantation can be less expensive than an artificial hairpiece over the long run. Do not be misled by physician offering the cheapest cost especially in FUE procedure.Spend time to understand the hair transplant technology especially the FUE procedure and know the credentials of a good hair transplant specialist. Donor hair is so limited, poor surgery will not grow back damaged hairs anymore.
After using Propecia® (finasteride) for a prolonged period, would cessation of use of the drug result in the same sudden rapid hair loss off all hairs that would have been lost without the use of the drug, like suddenly stopping use of Rogaine® (minoxidil)?
The hair would be lost until the point where an individual would have been without treatment. However, the hair loss is not sudden and will take several months to a year after stopping the medication.
Can I use Propecia (finasteride) or Rogaine (minoxidil) after my surgery?
Both finasteride and minoxidil are treatments for hair loss that have been reported to be successful in growing new hair. Minoxidil has a 1 in 3 success rate for crown hair growth in men and finasteride reports a 2 in 3 success rate for new hair growth on the crown region. Even though finasteride may not work for all men, it is generally accepted as a treatment to stop further hair loss. If your goal is just to keep the hair you have without losing more, and getting new hair growth with hair grafts, finasteride is an excellent co-treatment option along with hair transplants. Any new hair growth that finasteride can provide should be considered a bonus but please bear in mind that these FDA approved medications only offer temporary result that once discontinued,the hair affected by hormones DHT will fall out.
How do I find an excellent hair restoration surgeon?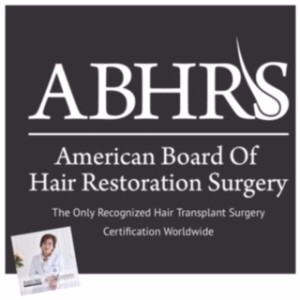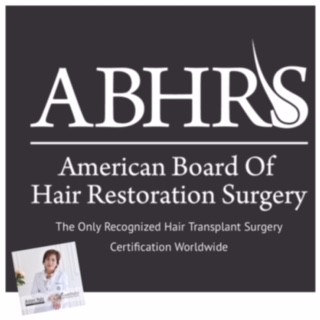 The most important decision in restoring your hair is the physician you choose. Dr. Arambulo is the first and only Filipino Diplomate of American Board of Hair Restoration Surgery. The skill, talent, and experience of hair restoration physicians vary widely, as do the end results. Dr. Arambulo performs herself both methods:Strip FUT and Follicular Unit Extraction (FUE) with higher skills and knowledge.Who you choose will determine how natural and full your new hair will be for the rest of your life.  In addition, the Asian Hair Restoration surgical team are well trained, enthusiastic  and dedicated to excellence.
Actual photos and videos of our full procedure will be shown on your initial visit to help you understand that our physician hair restoration specialist, Dr. Arambulo does not delegate but does herself the major and critical part of the procedure, in both strip FUT and FUE  procedures. If you have further questions, please email us or call for personal consultation appointment.
Attending scientific conferences and workshops, is an indication of her commitment and advanced training and most of all being invited to speak on hair transplant procedure here and abroad, is , an indication that she strongly supports the  Mission and Vision of  International Society of Hair Restoration Surgery applying  it as the  guiding principles  in hair transplant practice:" To achieve excellence in patient outcomes by promoting member education,  international collegiality ,research ,ethics and public awareness".
The Physician's Experience: The gallery of before and after photo are results of her own work and matches with her years of practice. Beware of physicians who use photos of other physicians as their own or copy photos of other physicians. Its good to know that before and after website photos used in the website are patients who are willing to be referenced for the Dr. Arambulo, you can request to talk with them about their experience with us.
The Manner in Which the Physician Practices : A call for initial consultation to visit the clinic will help you know about the environment in which Dr. Arambulo practices; to know more about her which is likely to result to a good patient/physician relationship founded upon trust based on your knowledge of her training, experience, and competence. As a certified dermatologist, she has the authority to evaluate your hair loss concern and willing to spend time with you, to give you the different treatment options that will work best for your hair loss problem. In addition, an initial visit to the clinic will help you know more the Asian Hair Restoration office staff helpfulness and willingness to answer your other concerns. Our video post-operative instructions are also something to show you the importance of a well trained surgical team observing the surgical details important to achieve the best aesthetic result form the difficult hair transplant procedure.
Thank you very much for your patience and time reading these FAQ. Please call for personal consultation to understand hair transplant procedure further

The Only Recognised Hair Transplant Surgery
Certification Worldwide
Still got questions? Tap us at our contact us page and we'll be happy to answer your hair or skin question delightfully.