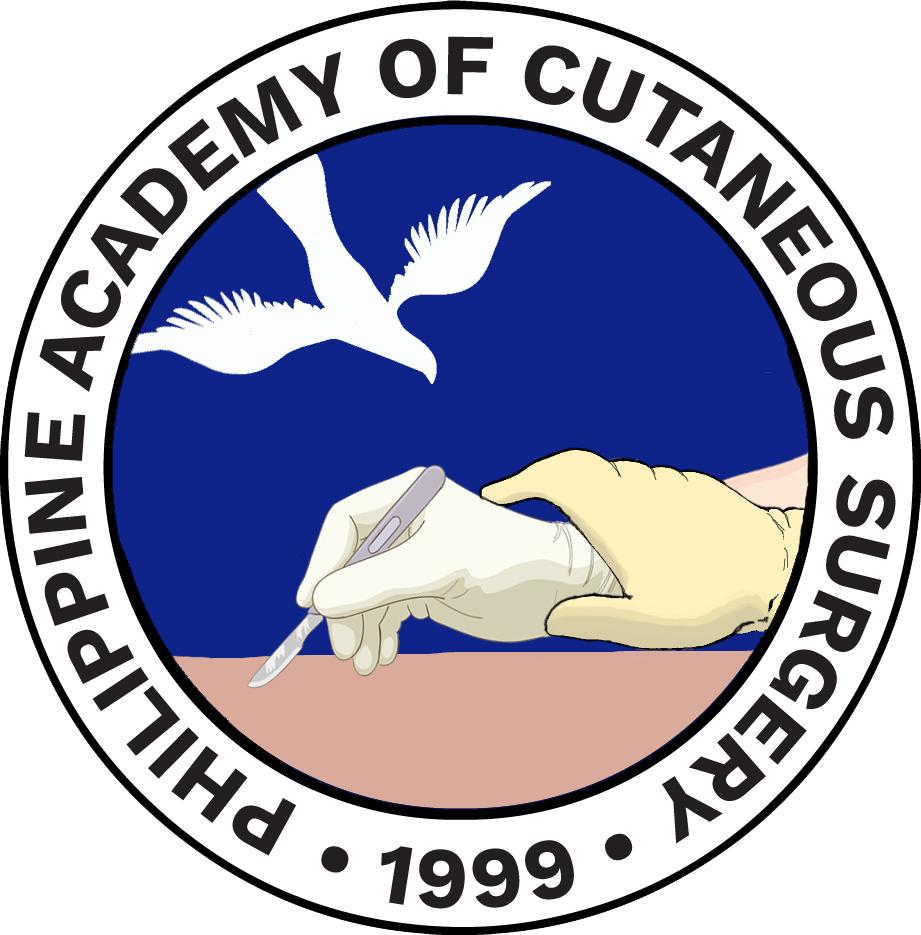 Dr. Julieta Peralta- Arambulo obtained his MD degree from Far Eastern University Nicanor Reyes Medical Foundation in 1983 . She is a Diplomate of the Philippine Board of Dermatology, Fellow of the Philippine Dermatological Society ,

the first and only Filipino Diplomate of the American Board of Hair Restoration Surgery ( ABHRS) (

http://www.abhrs.com

) .

Fellow of the International Society of Hair Restoration Surgery and She is also a member of Asian Association of Hair Restoration Surgeons , Section Head of Dermatology Wellness and Hair Transplant Service at the Aesthetic Wellness Center of the The Medical City Ortigas Pasig , the President and Founder of the Asian Hair Restoration Center and Arambulo Dermatology Center and
consultant

at Skin and Cancer Foundation of the Philippines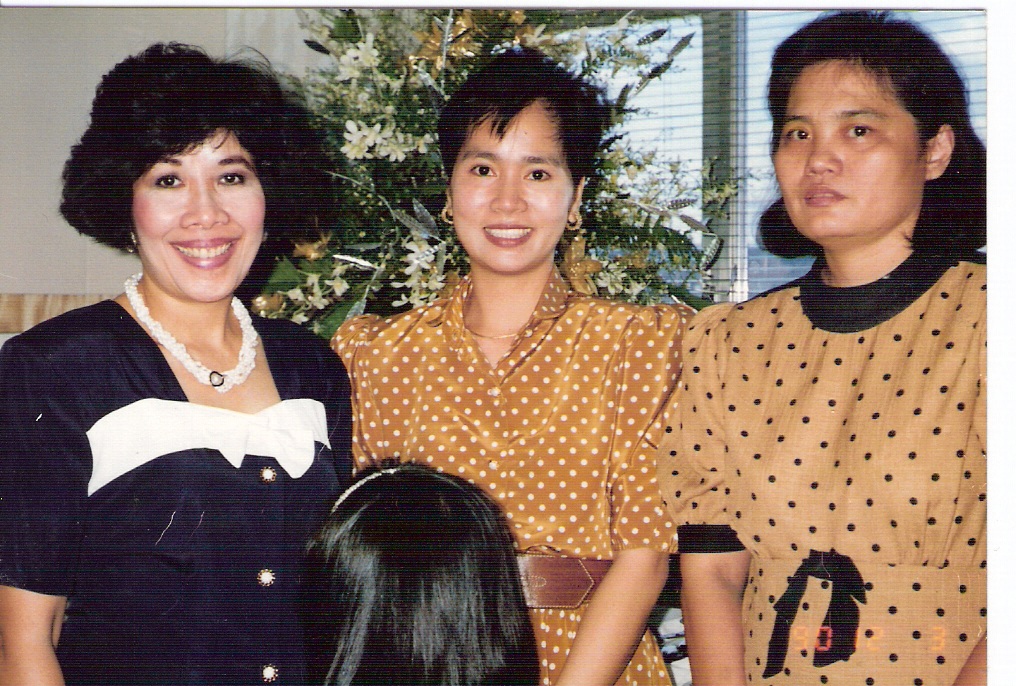 Dr. Arambulo with her mentor , Dr. Sylvia Jacinto , President and Founder of Skin and Cancer Foundation of the Philippines, an approved training institution in dermatology .Dr. Jacinto introduced to her the hair transplant procedure when she was first year resident way back in the year 1986. Though the old punch technique had unnatural result, Dr. Arambulo has remained fascinated by the growth of hair.
Since then her passion in dermatologic surgery is more focused in hair restoration procedure and be the best hair transplant surgeon in Metro Manila Philippines. In 1997 , she learned the art of Follicular Unit Hair transplantation , the gold standard in hair transplantation under Dr. Allan K. Yung of Anew Medical Group Clinic in Willshire California. Follicular Unit Hair Transplantation is the end refinement of hair transplantation which is a procedure entailing detailed attention, artistry and a dedicated efficient surgical team. Dr. Arambulo worked hard to train her team composed of different physicians before.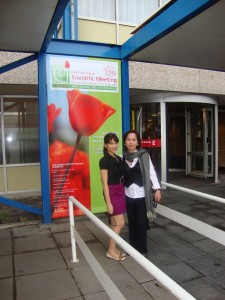 Today Dr. Arambulo remained fascinated with the beauty of microsurgery hair transplant surgery , continue to screen rightful surgical staff to train .It was a hard work , until her talented daughter Margueritha Louise Arambulo Lucena ,a registered nurse, agreed to work with her and became the first best well trained hair transplant surgical assistant at our center . In 2009, she and Dr. Arambulo first attended the annual meeting of the International Society of Hair Restoration Surgery in Amsterdam . Since then Dr. Arambulo updates her knowledge regularly, attends the ISHRS annual meetings and hair transplant workshops in different parts of the world to learn the international standard in hair restoration surgery and attain the world class results. Click Gallery to see our authentic hair transplant result that can speak for itself.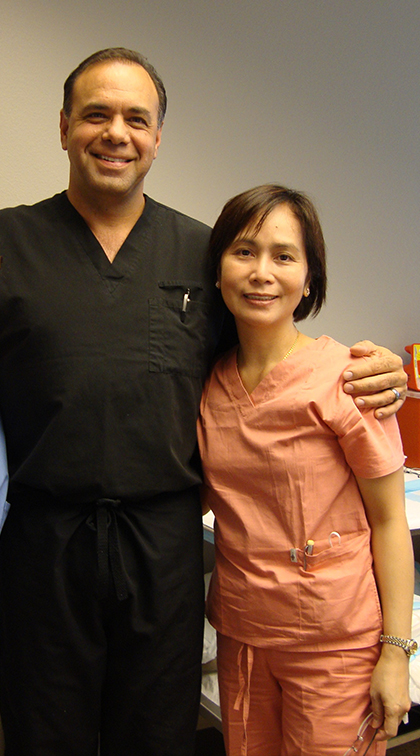 With Dr. Jim Harris from Colorado, my mentor in FUE technique and one of the collaborators in Artas Robotic FUE technology.
In 2009 ,Dr. Arambulo acquired the knowledge and honed her skills in Follicular Unit Extraction ( FUE ),State of the Art Methodology and Instrumentation in Denver Colorado under her Mentor Dr. James Harris . FUE is the latest technique only performed by few talented hair transplant specialists all over the World. Dr. Arambulo is one of them and proves to be the pioneer and the best FUE hair transplant surgeon in the Philippines. We have photos and videos to prove her skills and remarkable before and after results, proof of quality hair transplant which our 100 percent ours. She performs herself the FUE procedure using the "Powered Safe Scribe " , offering this procedure as alternative treatment ,in patients with limited donor supply and who do not want donor linear scarring. FUE technique makes possible,Body Hair Transplant ,which gives new hope to patients with limited donor supply .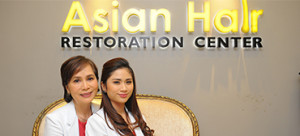 In 2010, Dr. Arambulo opened the Asian Hair Restoration Center ( AHRC) where she can devote more time doing hair transplant procedure.Margueritha on the other hand continue to help out in training our surgical staff .Today ,our centre is blessed with efficient dedicated to excellence surgical team .
With our trusted dedicated efficient head nurse, Bettina Peñalosa
Dr. Arambulo is an updated hair restoration surgeon in the Philippines. She attends various scientific meetings and workshops worldwide every year to learn the new developments and techniques in hair restoration surgery . She is grateful to have many ethical experienced hair restoration specialists friends from ISHRS , who are successful hair transplant surgeons from different parts of the world. Dr. arambulo is also an international speaker and lectures in Metro Manila ,provinces and abroad about her experience in hair transplant .Her favourite topic is " Eyebrow Hair Transplant " .She had the privilege to share her " Eyebrow Hair Transplant Philippine Experience and Eyebrow Restoration by FUE technique and with the use of Implanter" during the 22nd International Society of Hair Restoration Surgery Annual Scientific Meeting last October 2014 in Kuala Lumpur ,Malaysia and in 2017 at the AAHRS 5th Annual Scientific Workshop in Hair Restoration and Live Surgery Workshop in Thailand .She is also a contributing author in the 2nd edition of the book entitled:" Practical Aspects of Hair Transplantation in Asians, about Eyebrow Transplant Philippine Experience: " Eyebrow Transplant in East and South East Asians ".
She strongly supports the Mission and Vision of International Society of Hair Restoration Surgery applying it as the guiding principles in hair transplant practice:" To achieve excellence in patient outcomes by promoting member education, international collegiality ,research ,ethics and public awareness".
Dr. Arambulo received the privilege and honour to be the first Filipino Diplomate of the the American Board of Hair Restoration Surgery (ABHRS).You can check at ( http://www.abhrs.com) . ABHRS is the only certification recognized by the International Society of Hair Restoration Surgery (ISHRS) - the largest hair restoration educational organization in the world.
"The American Board of Hair Restoration Surgery is a board organized for the purpose of examining and certifying physicians in the specialty of Hair Restoration Surgery. The American Board of Hair Restoration Surgery (ABHRS) was formed in 1996 to fill the recognized need for a certifying body in the field of hair restoration. Its counterpart outside the United States, the International Board of Hair Restoration Surgery (IBHRS), was recognized internationally in 2000. The ABHRS/IBHRS examination is the only psychometrically and statistically validated examination dedicated to the specialty of hair restoration surgery. The express purpose of the organization is to promote the highest quality, ethical care for the patient and to this end provide certification for physicians in this specialty. The examination consists of written and oral portions, and passing the exam assures the public of an individual's educational ability and experience to perform safe, aesthetically sensitive hair restoration surgery.Strive for excellence in all aspects of medical practice
The mission statement, goals and objectives of the ABHRS are to act for the benefit of the public to establish specialty standards and to examine surgeons' skill, knowledge and aesthetic judgment in the field of hair restoration. The board will grant certification to candidates who meet the highest standards of the medical profession in the field of hair restoration surgery with the express provision that the ABHRS will not act as a business, vocational or post-secondary school."
Professional Affiliations:
• Diplomate, American Board of Hair Restoration Surgery , 2014-present
• Fellow, International Society of Hair Restoration Surgery , 2019 -
present
Member , International Society of Hair Restoration Surgery , 2009 - present
• Member, Asian Association of Hair Restoration Surgeons , 2011-present
• Fellow, Philippine Academy of Cutaneous Surgery , 2001-present
• International Fellow, American Academy of Dermatology Association 1998 -2009
• Fellow of the Philippine Dermatological Society 1993- present
• Diplomate, Philippine Dermatological Society 1990
• Member, Philippine Medical Association 1985
For Continuous Medical Education ( CME)