Not all patients are suitable candidates for surgery and some don't like surgery. The good news is cosmetic tattoos have been used for decades by men and women to camouflage their balding and thinning scalps . Although previous use of cosmetic tattoos have been attempted by cosmetic service providers, not until recently has this become an art form now used by dermatologists- hair restoration specialists with better outcomes.
Micropigmention, a permanent cosmetic tattoo, is now a popular non- surgical option to create the natural look of a fuller hair. It is a semi-permanent or permanent cosmetic procedure that is ideal for patients who are not candidates for hair transplant surgery, or it can be used as an adjunct to hair transplant procedure. Scalp Micropigmentation (SMP) mimics the short hairs of a closely shaved scalp. 
According to Dr. Arambulo ,she applies SMP to a wide variety of pathologies of the hair, medical and surgical alopecia involving the scalp like vitiligo and chronic Alopecia of more than 1 year duration.However , SMP is an alternative non surgical procedure to camouflage thinning scalp in Male and Female with Androgenic Alopecia or other scarring alopecia. SMP produces hair density effect, is used to conceal a wide linear scar on the back after poor STRIP hair transplant surgery elsewhere or the scalp scars from trauma ,infection and even the small white spots scars after FUE.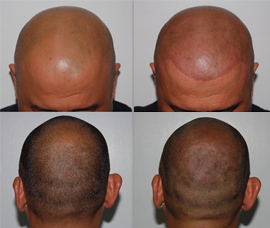 Call for consultation appointment to learn if SMP is for you.
Visit us on Facebook: Asian Hair Restoration Center for Hair Transplant Philippines