Eyebrow tattoos are the go-to solution right now for ladies looking to set their brows on fleek 24/7. It's sometimes called as eyebrow microblading and it's a form of a permanent makeup that mimics the natural appearance of eyebrows down to the feather-like strokes.
It's already a common procedure available in most aesthetic clinics and dermatology centers in the Philippines. It's a popular aesthetic procedure known for its convenience and realistic looks that defies genetics.
It's not the eyebrow tattoo you remember from the past which looks like a single block of color inked to the brows.
The Perks of (Modern) Eyebrow Tattoos
When you look for an eyebrow tattoo service in beauty clinics around the Philippines, you'll always find the term "permanent makeup". It's permanent in a sense that it doesn't wear off no matter what you do. It does however gradually fade so you will need a retouch after about 2-3 years.
That's 2-3 years of hassle-free full eyebrows. No need to rush every morning to pencil your brows to perfection. They say "kilay is life" but with eyebrow microblading "kilay is forever". You'll be able to have the celebrity brows you've always wanted effortlessly.
That Perfect Pair of Brows
It's a good idea to look at famous faces to gather some inspiration on what you want your brows to look like. There are plenty of eyebrow trends to look for online and celebs to follow so you should be able to pick in no time.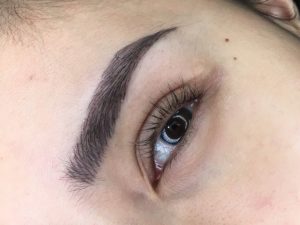 Celebrities like Julia Barretto, Yassi Presman, Lovi Poe, and Kathryn Bernardo might spark your kilay goals so go ahead and take notes. It'll come in handy for your appointment.
This is How the Brows Done
The first step is to find the right clinic and dermatologist for you. You'll be sure to find plenty of beauty clinics within the Philippines but the Manila area has reputable dermatology centers ready to give you their absolute best.
What you should look for is a clinic that could offer an eyebrow tattoo service with professional care and phenomenal results like this. Watch it and you'll see what to expect from an eyebrow tattoo done right.
<iframe width="560" height="315" src="https://www.youtube.com/embed/UZp16DSZ3_U?start=95" frameborder="0" allow="accelerometer; autoplay; encrypted-media; gyroscope; picture-in-picture" allowfullscreen></iframe>
Go ahead and schedule an appointment with a dermatologist if you're already confident with your choice. Just make sure they're reputable and really good at their craft so keep checking reviews and customer testimonies if they have a website. This is to make sure you're in good hands.
An eyebrow tattoo service is expensive but totally worth it considering how long it takes before you go for a retouch. If you'll need a convenient, beautiful, and permanent brow solution then this is for you!